Purchase
Natürlich kaufen wir auch Waren an!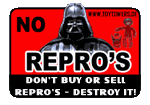 Since we are also a buying and selling shop, we are constantly interested in the purchase of well-preserved toys from the action figures or movie merchandising area.
We also buy toy leftovers and / or storekeepers of toy shops as well as complete collections! (Please do not offer any articles from De Agostini!)
Submit to us without obligation your offer via ourContaktform or directly by e-mail!
Please be sure to include your asking price (including any shipping costs) as well as the exact condition of the items.
But please remember that we live from the sale of a collection and we can not offer you any sales prices!
We will contact you as soon as possible.
Your offer should include:
Article data (manufacturer, age, possibly, item no.)
Grading
Your asking price (including shipping costs)
If possible pictures of the offer!
Of course, all toys we buy will be cleaned and eventually completed before they are sold again.
We look forward to your mail!